Main content starts here, tab to start navigating
Frequently Asked Questions
Do you offer gift cards?
Yes. Please email info@colonienyc.com with the amount you would like to purchase, and if you prefer a digital link or physical gift card, and we will respond within 24 hours.
What kind of food does Colonie serve?
Seasonal American with a focus on local and sustainable foods whenever possible.
Are there vegetarian options?
Absolutely! We have lots of vegetarian choices - one of the owners is vegetarian, trust us, she is on it.
Do you accept reservations?
We accept dinner reservations for parties up to 12 guests. Please check Resy, or call the restaurant or email info@colonienyc.com to make a dinner reservation. For parties larger then 8 guests we offer a prix fixe. We do not accept brunch reservations, please join us as a walk-in.
Do you offer takeout or delivery?
No, we are dine-in only.
Can you accommodate large parties?
We can accommodate parties of up to 12 guests. Anything larger requires a full buyout of the restaurant. Please email info@colonienyc.com to inquire about private events.
What is the wait time for walk-ins?
Our wait time varies from day to day, but it is best to get here early to guarantee a seat. Please note, we only seat complete parties.
What is the wine corkage fee?
$35 per 750ml bottle, $75 for a magnum.
Can I bring in a cake?
We do not allow outside food or desserts.
Where can I park?
There is metered parking on Atlantic Avenue. A paid lot is two blocks up the road at 211 Atlantic Avenue.
What are the closest subways?
F, G to Bergen
A, C to Jay Street Metrotech
2, 3, 4, 5 to Borough Hall
R to Court St
Is Colonie wheelchair accessible?
Yes!
Does Colonie have high chairs?
We do, and we welcome your adorable children.
Are you hiring?
Colonie is always looking to meet potential employees. Please send a resume along with a brief intro about yourself to info@colonienyc.com
Do you have other restaurants?
We sure do! Pips, a natural wine bar with an Italian-inspired menu and cocktail list is right next door. And Gran Electrica, a greenmarket Mexican restaurant located in DUMBO, Brooklyn.
Why are you called Colonie?
When the Dutch settled Brooklyn, they named it Bruijkleen Colonie. If you look at our logo, we include the original spelling of Brooklyn just below our name.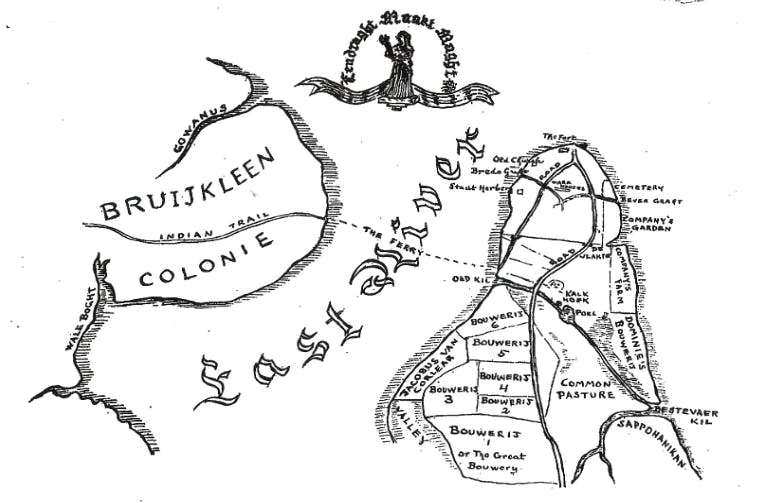 We were very much inspired by an early map of Brooklyn, shown here. We were particularly drawn to the Bruijkleen Seal at the top of the map, depicting the goddess Hestia, who symbolized connecting the settlers to their roots, so as not to forget their own ancestral homes. The motto in the seal, "Eendraght maaakt magh," is generally translated as "Unity makes Strength." This became our own de facto motto as we were conceptualizing, building, and opening Colonie, and continues to guide us as we run our business. A happy and supported staff, close relationships with our local vendors and farms, and strong ties to our neighborhood and neighbors motivate us every day to do better, to be better, and to stay strong.